MIAMI VALLEY REGION HOUSING DATA
In this section you will find the latest Dayton market updates, statistics, historical data, press releases, and other Dayton REALTORS® news. Check back often for the latest information.
A REALTOR® and the MLS is the premier source for accurate and up to date data for your market and community.
Local Government Officials
If you are a city or county official and wish to have a more in-depth report created for your city or county, you may contact us for a full report utilizing the REALTOR® Property Resource (RPR) data service. Please send all requests to Dan Douglas, Government Affairs Director, at ddouglas@daytonrealtors.org.
Elected Leaders
If you are an elected official and would like information on demographics, economic talking points, and real estate data for your district, please contact Dan Douglas, Government Affairs Director, at ddouglas@daytonrealtors.org.
General Media Requests
All media requests can be sent to Bob Jones, Communications Director, at bjones@daytonrealtors.org or by calling 937-610-1434.
DAYTON REGION MONTHLY HOME SALES - October 2022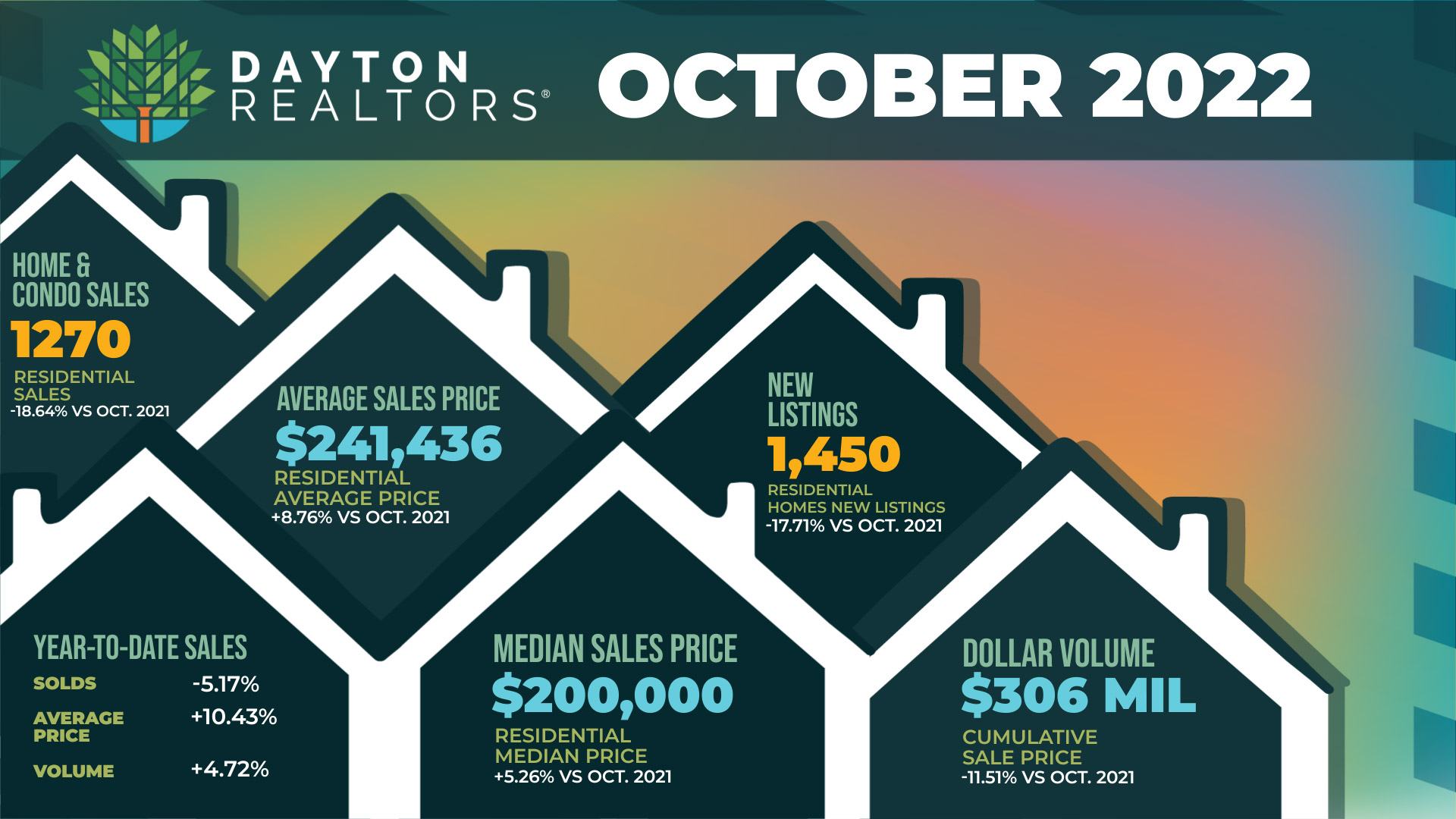 ---
---
Single-family and condominium sales reported by Dayton Realtors' Multiple Listing Service reached a sales volume of $306.6 million in October, a decrease of eleven percent compared to the sales volume that occurred during the same month in 2021. Likewise, the 1,270 sales for the month couldn't meet last year's 1,561, but the median price ($200,000) was five percent higher than last year while the average price ($241,436) posted an eight percent gain over last October.
Year-to-date through October, there were 13,855 sales, down five percent compared to the same period in 2021 when 14,610 properties closed. Total dollar volume through ten months hit $3.3 billion, a four percent increase from the same period last year.
The year-to-date average sale price and median sale price continued to rise as they have all year long. The average price totaled $241,763 – up over ten percent - while the median price came in at $205,000, a gain of nearly eleven percent.
Single-family and condominium listing entries totaled 1,450 in October, down seventeen percent from October 2021. This pushed the listings through the ten-month period to 16,518, down four percent over the same 2021 time period.
The overall MLS inventory at month's end showed 1,699 active properties available for sale, which translated to a supply of 1.3 months based on October's resale rate. The pace of sales was slightly quicker last October, with a 0.87 months supply (1,360 listings) available.
---
          OCTOBER 2022 - MLS SINGLE-FAMILY & CONDO SALES
 
 
 
 
 
2022
2021
% Change
 
 
 
 
New Listings
1450
1762
-17.71%
 
 
 
 
Solds
1270
1561
-18.64%
Total Sale Price
$306,624,145
$346,526,556
-11.51%
% Sale/List Price
99.70
100.00
-0.30%
Median Sale Price
$200,000
$190,000
5.26%
Average Sales Price
$241,436
$221,990
8.76%
JAN-OCT 2022 - MLS SINGLE-FAMILY & CONDO SALES
2022
2021
% Change
New Listings
16518
17343
-4.76%
Solds
13855
14610
-5.17%
Total Sale Price
$3,349,624,926
$3,198,520,456
4.72%
% Sale/List Price
100
100
0.00%
Median Sale Price
$205,000
$185,000
10.81%
Average Sales Price
$241,763
$218,927
10.43%
YEARLY SALES BY COMMUNITY - 2021
All statistics are derived from Dayton REALTORS® Multiple Listing Service and are believed to be accurate but not warranted. Please consult with your REALTOR® for more specific statistics.
| | | | |
| --- | --- | --- | --- |
| Community | Units Sold | Median Sale Price | Average Sale Price |
| Beavercreek/Bvrcrk T.S. | 998 | $277,307 | $304,885 |
| Bellbrook/Sugarcreek | 280 | $349,324 | $378,556 |
| Brookville | 125 | $186,532 | $201,002 |
| Centerville/Wash. T.S. | 1212 | $281,299 | $309,120 |
| Dayton | 1855 | $97,789 | $111,951 |
| Eaton | 221 | $153,481 | $176,982 |
| Englewood/Clayton | 674 | $175,491 | $191,484 |
| Fairborn/Bath T.S. | 577 | $150,814 | $176,936 |
| Franklin/Carlisle | 376 | $201,976 | $219,417 |
| Huber Heights | 682 | $166,799 | $189,053 |
| Jamestown/Cedarville | 108 | $208,158 | $231,194 |
| Kettering | 981 | $184,382 | $201,381 |
| Miamisburg | 777 | $199,564 | $207,550 |
| New Lebanon | 93 | $140,969 | $162,442 |
| Oakwood | 244 | $313,422 | $365,231 |
| Springboro/Clearcreek T.S. | 639 | $359,248 | $387,537 |
| Trotwood | 251 | $116,975 | $117,383 |
| Vandalia | 390 | $213,442 | $244,399 |
| Waynesville | 106 | $266,737 | $296,185 |
| W. Carrollton | 216 | $132,741 | $133,546 |
| Xenia | 462 | $163,372 | $178,474 |
| Yellow Springs | 53 | $302,291 | $342,342 |